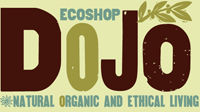 Skip to main content
Dojo Ecoshop
We are a small, independent company with strong roots in the textile heart of Manchester, we've been making tough, beautiful furniture here since 1990. We left our jobs in scientific research to set up a sustainable business where we could be responsible for the ethical and environmental impact of every aspect of our actions. We wanted to extend our holistic outlook on living to the way we worked too, as a positive and practical force for fairness, healthy living and a sound environment.
Our approach has always been simple and down to earth, we use the best organic and natural materials to produce well designed, functional eco goods that are made to be used, to be enjoyed and to last. We are committed to fair trade from start to finish, from sourcing ethically produced fabrics and fillings to honest pricing of our products.
Our journey has been challenging, exciting and creative and would mean nothing without the support and inspiration of family, friends, producers, suppliers and of course our customers. We look forward to developing more of our plans for new products and meeting new people along the Way.
Sarah and Jonathan
.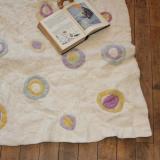 Our Eco Products
We use organic British wool, sustainably produced timber, Fairtrade organic cotton fabric, organic linen, hemp, pure latex and coconut fibre. Our glues and finishes are water and plant based, non-toxic and solvent free. Using traditional construction methods such as mortise and tennon joints means we can cut down on unnecessary fittings and fixings.
We take great care in the production and selection of our products; we don't want them to be special just because they are organic, we want them to be special because they look good, feel great and work well. They are affordable eco alternatives to everyday goods.
In addition to our 'own label' goods we have chosen a range of healthy, natural products for bed, bath and home and an eclectic selection of gifts and toys, well made functional things we think are great and use ourselves. All sourced from like-minded producers and suppliers who share our values and passion.
Designing and Making
Our goods are handmade using traditional and low energy methods, fuelled by Ecotricity and Fairtrade coffee! As a producer we are accountable for how our products are made and what they are made from, and have the power to ensure we respect ethical and ecological issues. We choose materials and use resources with care, only use low impact finishes and dyes, source from local suppliers, recycle and reuse our waste, reduce unnecessary packaging and run our delivery van on biodiesel. Our lovely workshop used to be a silk hat factory and is now heated with clean-burn woodstoves, insulated with sheep's wool and decorated with eco paints.
As a manufacturer we can ask questions, listen to ideas and suggestions and have the flexibility to adapt designs and change materials to make products that are special and unique. By now we aren't suprised by most requests!
Our Shop and Service
Meeting people face to face is really important to us. We welcome people to call into our shop, try out all our lovely products and see how they are made. While our Manchester shop is closed we are located in Welshpool on the Welsh-Shropshire border and it is still possible to call in to visit us here, by appointment (weekdays only). We won't try to sell you something you don't need, we have firsthand knowledge of everything we sell and are always happy to give friendly advice based on our experience. We believe in a prompt, efficient service and deliveries that arrive when we say they will.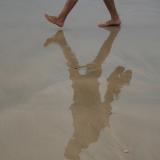 Eco Footprint
We understand that cost isn't just about money, and that the true price of a product has to take account of its impact on the environment and the people involved in its supply, production and distribution. We've drawn up an ethical and ecological footprint for all of our products by looking carefully and critically at their lifecycle from start to finish.
The raw materials, are they organically produced, from a sustainable source, free of hazardous or persistent compounds, recycled, reused or recyclable? Have they been produced safely and at a fair price?
The method of manufacture, is it environmentally responsible, energy efficient and non polluting with careful waste management? Are there ethically responsible working practices with safe and decent working conditions, fair wages, equal opportunities and no child labour?
The method and distance of distribution, are products produced locally and how are goods transported?
Is the product energy efficient in its use, long lasting, biodegradable or recyclable?
We are constantly seeking to lighten the footprint by replacing goods and changing production methods if we find something that makes less of an impact.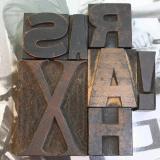 Dojo Logo
Our Dojo logo was inspired by the strong, simple form of the wooden letterpress printing blocks. Traditional and quirky, functional and beautiful - qualities we look for when designing and sourcing goods. We love the way the character of the finished product reflects the materials it's made from.
And Dojo? Do - Way, Jo - Place, 'The Place of Enlightenment', traditionally the Martial Arts training hall. Upstairs from Dojo Ecoshop is the Aikido Dojo where we teach regular classes. Aikido means 'The Way Of Harmony With The Universe' and is a soft but powerful martial art based on a compassionate outlook. We apply the harmonious philosophy of Aikido to all aspects of our work and in turn draw on our working experiences for our Aikido teaching.